Library
Here you will find a collection of our reports, good news stories and case studies relating to the LINC Programme.
One of the major objectives of the LINC Standardisation and Design Project has been the extraction and documentation of all the configuration items contained within the current WLIMS1 (TrakCare Lab 2016), called the Current State.
This has never been attempted before, so it has not been possible for the service to readily review this configuration since it was first implemented in WLIMS1 nearly 10 years ago. A Current State organisational unit (OU) has also been created in the iPassport electronic quality management system (eQMS) to store all the configuration items.
The Current State Master Catalogue lists all the configuration items, and a dashboard has been developed to track the progress with this work showing 28,000 configuration items covering business intelligence, code tables, core functionality reference ranges and test sets.
Work is also being undertaken to define the configuration of laboratories across Wales (to create a single virtual laboratory), the security model for staff, the Wales Pathology Handbook and specimen numbering.
Documenting the Current State was a very complex and laborious piece of work and has taken two years to complete. The test set workflows are particularly complex and preparing the Current State involved several steps, from extracting and analysing the raw data, and converting into an MS Visio diagram to represent the process in a way that makes sense to a pathologist to review.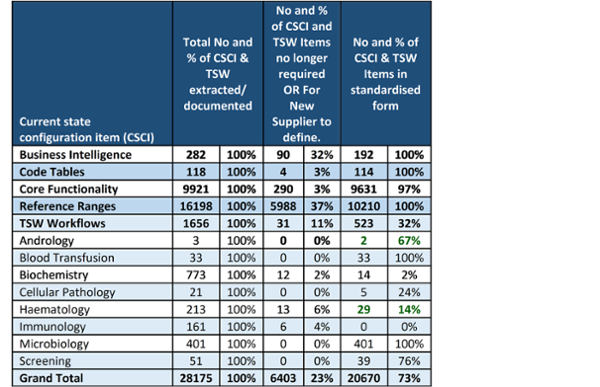 Blood Transfusion, Microbiology and Screening workflows are mostly standardised, leaving 1,256 for the Blood Sciences standardisation leads to review. They are not insignificant and the test set workflow for a full blood count contained 1,737 rules and conditions.
It took 147 pages to document in MS Visio to provide it in a form that the standardisation leads could review and decide which rules were needed (such as age or sex) and which were unnecessary (such as local rules for a specific ward or requesting clinician).
This work has been taken forward by the LINC Standardisation and Design Project, led by Kevin Williams, Lead Pathology Subject Matter Expert (SME) and managed by Greg Ead, Senior Project Manager.
Gabriel Kumar, LIMS SME manages a small, skilled team with intimate knowledge of the current LIMS data and processes as well as a general knowledge of pathology disciplines comprising Andrea Abbott and Rhys Williams, both Pathology Business Analysts, and Simon Watton Programme Support Officer supported by Phil Waters, Business Intelligence SME, Juber Islam, Pathology informatics Officer as well as Jodi Hughes, Allan Bateman and Shane Allen from the DHCW WLIMS1 Configuration Team. Thanks also to Steve Williams from Aneurin Bevan University Health Board, who helped to finish the Haematology workflows.
This is an amazing achievement and it has been found that 73% of the Current State is already standardised. Much work still remains to finalise the standardised configuration, or Future State, that will be stored in a separate iPassport OU and made available to the supplier as a basis for configuring the new LIMS Service. Standardisation leads and groups are now reviewing and standardising the test set workflows for the new LIMS Service. Where feasible, these will be implemented in WLIMS1 to make the transition to the new LIMS Service easier to achieve.
The service will need to prepare local services for the proposed changes and address any issues raised up front, supported by business change.
The LINC team has worked in collaboration with colleagues in health boards and trusts via the National DeepSee Development Group, to develop and implement a new Laboratory Information Management System (LIMS) Business Intelligence (BI) system.
This group, led by Philip Waters (BI Subject Matter Expert, LINC Programme), has developed a business intelligence solution to underpin pathology services. This innovative business intelligence model provides analytical information so that the right data is provided to the right user at the right time.
The InterSystems IRIS BI system, known locally as DeepSee2, replaced the previous LIMS BI System called InterSystems DeepSee and now allows laboratory staff to quickly search for data relevant to their needs.
The DeepSee2 Dashboards act as an information portal, allowing staff to filter for data relevant to them without the need for complex data querying skills.
Development of the DeepSee2 product was a lengthy process and is the result of a collaboration of nearly 50 Pathology staff across the various health boards and trusts, representatives from InterSystems and DHCW.
The aim of the project was to develop easy to use BI dashboards, with an intuitive design, customisable to meet the current and future needs of the Service. In addition, the platform contains a DeepSee Analyser that allows data scientists and analysts to produce complex queries.
The system is operational and planned further enhancements will provide additional service dashboards including:
Electronic Test Requesting dashboard - to monitor the uptake of electronic test requesting across the Welsh health boards and trusts
Covid dashboard – a live list of recently produced Covid-19 results filtered by hospital or user defined group of patient locations.
Comments by service users:
"I find DeepSee2, for what I need, works well. I am far more confident when using the Deepsee tool following Phil's training session." - Domenica Lear, Cwm Taf Morgannwg MDT Coordinator)
"DeepSee 2 offers the same functionality as its predecessor, but in a more convenient, faster and easier to use format. I look forward to working with Phil to develop further Welsh BI tools in the future." - Arthur Thomas, Betsi Cadwaladr Pathology Performance and IT Manager)
A collaboration across Health Boards has seen a development in monitoring the status of tests received in laboratories. The dashboards illustrate Outstanding Test Lists (OTL) and have been installed in Biochemistry and Haematology Laboratories within Cwm Taf and Hywel Dda health boards in an effort to provide a visual aid to the laboratory staff who process samples.
Most laboratories in Wales rely on manually run reports or an ad-hoc system to monitor their outstanding tests. These OTL dashboards, based on the original model created by Tim Player (Senior Biomedical Scientist, Aneurin Bevan), provide a continually updating, instantly visible set of information drawn from the Laboratory Information Management System (LIMS) that can be fully customised to suit the needs of individual laboratories.
Juber Islam (Pathology Informatics Officer, LINC Programme) has worked closely with Tim Player to develop and enhance the OTL dashboards since October 2020 and now allows the roll-out of this innovative approach into other Health boards and Trusts. The OTL dashboard is a customisable query platform that ensures the correct information is pulled through from the LIMS via Open Database Connectivity (ODBC) connection to the display, and provides a real-time snapshot of the outstanding work flowing through the laboratory in real-time.
Gwyn Bennett (Pathology IT Manager, Hywel Dda) and Roberto Spagna (Biomedical Scientist, Cwm Taf) have been working closely with Juber Islam to define the data needed for their local laboratories they want represented, and this has involved designing the information tabs that laboratory staff will need and gathering feedback on potential improvement from users to further develop this new innovative service.
The intended goal of the OTL Dashboards is that they will save time for laboratory staff by removing the need for manually run reports, provide an easy method of tracking tests to be processed, and to improve the overall turnaround times of tests. In addition, statistics can be produced to measure these benefits and assist audits going forward.
Ongoing work is progressing with Biochemistry and Haematology laboratories in the Prince Charles Hospital and the Royal Glamorgan Hospital who have had the OTL dashboards implemented in March/April of this year. Further development work on improvements and refinements to the current dashboards including additional configuration is progressing at pace. In a few months, the hope is that there will be a demonstrable effect on the turnaround times within the laboratories that will inform further opportunity developments going forward.
Laboratories in Swansea Bay, who have a similar system in place, have indicated interest in having OTL Dashboards implemented. Should the new service prove beneficial to laboratories, it may very well be offered to all Health Boards and Trusts across Wales interested in adopting it.